Curtain rods, traverse rods standard and decorative and how they work.
Tuesday, November 15, 2016
Graber Dauphine Curtain Rod Sets Graber Basic Curtain Rods Graber Dauphine Curtain Rods come in two facial sizes, 2 1/2" and 4 1/2". These curtain rods can be used with wide pocket curtains or valances to achieve the look you desire. Available in white finish up to 156" long. Combinations, curved and bay window models and even a spring tension model for your exact needs. Pocket sizes need for the 4 1/2" is 5" to 5 1/2" and the 2 1/2" requires 3" to 3 1/2" pocket.BasicQ Inc. -- Drapery Hardware
3/8" Solid steel window curtain rodding, by Kirsch SKU: 7002-12-063 Minimum 12 feet. Brass colored 12 foot solid steel rod. For...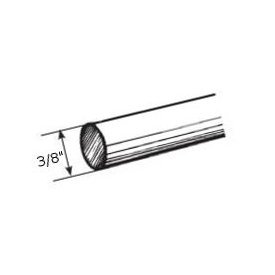 Architrac by Kirsch/Architrac 94003 Series Architrac 94003 Series Architrac ceiling bracket, by Kirsch $1.35 Architrac ...